E finished up March Break at the YMCA program at his school. They did lots of fun things including the Plant and Garden show at Exhibition Place, where they also got their faces painted, a Raptors 905 game (downtown), and swimming. He had a great week!
I snapped this from my office when E was at the 905 game, he was so close!
We made some
St. Patrick's Day
treats last night. We cut into the Lucky Charms squares before they were quite set and Q was not too sure about the stickiness on his hands.
Dave met me for lunch this week at Cactus Club. We are hoping to make this a regular occurrence, so many choices of places to eat and Dave did a bit of work at the Starbucks too.
I finally bought a new bag for work. It is a little bigger than I thought it would be but it does hold everything I need to bring with me. I actually ended up getting the diaper bag version because it had a shoulder strap, compartments on the inside, and extra outside pockets (where I keep my coffee mug, not bottles).
This
is the one I picked out - black with brown handles. (The other thing is a change pad which I obviously do not need, although Dave joked I could use it for a laptop case!)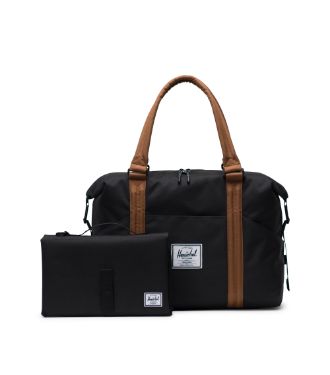 I wrote about why I changed jobs on
Wednesday
. Thanks for the nice comments.
Have a lovely weekend, I hope the weather is getting nice wherever you are!